OUR USES MACHINERY:
SHAMEEM ENGINEERING having High quality and Standard Machinery that uses in quality steel work & furniture production and fabrication. With this Advance Machinery our organizations complete customer requirements. They all make a total solution for our client. They are:
This product is ideal equipment for cutting all kinds of angle steel, I-beam, U-shape steel, right angle or 45-degree angle steel. Multi-workstations make it possible to finish series operations simultaneously on one machine, such as punching, shearing and notching, Dual-piston-type combined punching and shearing machine allows two-man operation at the same time (stamping +another work station), German Rexroth's integrated hydraulic valve block ensures the stability of the machine, Through Thermal Effect of annealing processing, the entire rack is able to keep its shape forever, without deformation.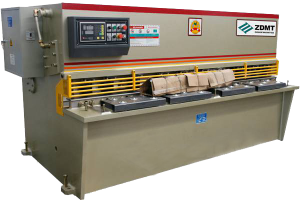 ZDMT hydraulic shearing machine / cutting machine
Model: ZDS-625 (QC12Y-6X2500)
Basic features
Steel welded structure with stress-free for reliable performance. Hydraulic transmission and accumulator return stroke, characterized by easy operation, reliable performance and fine appearance. Shadow line lighting. Full or short stroke adjustment of blade holder to achieve high efficiency and productivity. Foot switch for operation with emergency stop. Blades with high tensile strength for cutting carbon steel and stainless steel. Indicator-based adjustment of blades clearance is easy, convenient and swift
Basic guard fence around the shear is for personnel safety. Balls on worktable help for easy feeding of metal sheet and reducing labor intensity. Emergency stops on machine and foot switch, ensuring labor safety at every place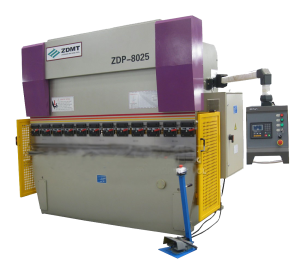 ZDMT hydraulic press brake machine / bending machine
Model: ZDP-8025 (WC67Y-80/2500)
Controller: E21 NC
Basic features:
Total steel welded structure and stress elimination by vibration. High mechanical strength and strong rigidity. Ram stroke hydraulic approaching downward, stable and reliable. E21 can control the movement of ram stroke and back gauge achieving efficient and highly precise positioning. Wedge compensation on top punch clamping. Simplified top blades clamping with micro-adjustment wedges, for easy operation and high precision. 2 Sliding front sheet support arms mounted onto T slot of the bed. Segmented 88° top blade. Solid one block four face multi V die. Approved stable and reliable hydraulics.